Doors
Glazed or otherwise, old-fashioned moulded or resolutely contemporary, each door model has been designed with the greatest care and know-how by our experts. CHASSIS 2000's doors guarantee good insulation and safety, year after year. We offer a vast choice in WOOD or PVC, to suit your taste and whim.
PVC doors
PVC adapts itself to every shape and line. CHASSIS 2000 offers FRAGER – FRALU panels, the most comprehensive range of which you will find here, from the classic, timeless, contemporary, through to the most modern and original.
The basic qualities of the PVC door are its great stability, its optimum thermal and acoustic insulation, its long life span and its classy design.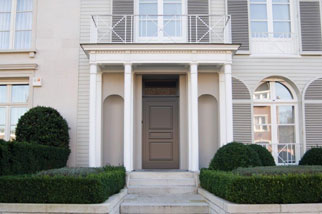 Characteristics of the PVC doors :
A 5-room technique that offers optimum protection against heat loss and acoustic bridges.

High-strength steel reinforcements with welded angle connectors, guarantee optimum stability of the structure, safe operation and long lifespan.

Maximum safety: mountings are delivered with 3 lock points and 2 hook points.

2 stop joints prevent thermal bridges and acoustic transmission, thus optimising the insulation.

Easy to maintain and weather-resistant due to a high-quality PVC with a high-density surface structure.

A wide range of colours available (standard or decorative colours)
PVC colors
WOOD doors
CHASSIS 2000 takes great care in the design and manufacture of its wood doors to add balance, attractiveness and personality to your home.
Conceived as a piece of furniture that must marry well with your interiors, our wood doors fit all openings with a touch of class, whatever your home's style is.
View part of our wood door range here. Other models are also offered, according to your home's architecture.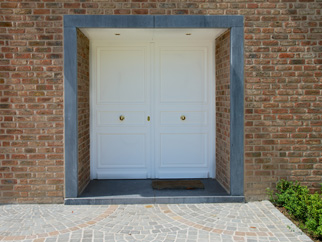 Characteristics of the WOOD doors :
Solid wood profiles (section 68/120) with triple leaf system.

Frame fitted with thermal and acoustic double neoprene seal that can also be fitted with intruder delay hardware.

Maximum safety: mountings are delivered with 3 lock points and 2 hook points.

Frames available in several woods (azfalia, oak, meranti, ovingui, sipo), treated with a coat of fungicide and insecticide, 2-coat finish available (woodstain or RAL colour as desired).
Exemples de portes en BOIS