Garage doors
The sectional door is the best option for insulation, safety and convenience. It fits all situations either for renovations or for new builds. It can be personalised by RAL colours and its finishings with multiple panels and accessories like portholes, with or without cross-pieces... All our garage doors are motorised.
Characteristics of the sectional garage door:
Panel thickness 40mm

EPDM seals between the panels

Anti finger jamb panels and hardware

Anti-fall safety feature if springs should break

Anti-crushing safety feature built into the motor
Technical sheet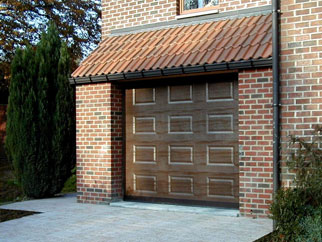 See our full range of panels
---
The sectional doors have been developed in adherence to the latest European safety regulations. They meet the specifications of norm EN 13241-1. Most door models are also available in anti-intruder version in accordance with norms EN1627, EN1628, EN1629 and EN1630.
Based on AR/CIR 92 with respect to tax deductions for amounts spent on a home's anti-burglary or fire devices, garage doors fitted with a motor with an anti-raising system are taken into account at pro rata of the motor's power.